----------------------------
THIS IS THE PREMIER AND MOST INNOVATIVE SITE FOR JAZZ DIVAS WORLDWIDE. Joining this site is only by referral or invitation from a member or contact the site Only Jazz Lovers need apply, keep it real!
October 4, 2015
http://www.openskyjazz.com/2012/10/a-womans-perspective-pt-9-sheila-anderson/
Nicole Henry September 2015 Tour Dates:
http://www.nicolehenry.com/tours
Anguilla's Amalie Watty. 2014 http://www.caribjournal.com/2014/02/03/caribbean-sound-anguillas-amalia-watty/
Maya Azucena Apollo-N.Y. Jan 2013
Let's ~Take Five~ and wish Dave Brubeck a really good time with our jazz greats in Heaven& Jazz! Thank for adding content to our world!
Welcome Paulette Dozier! 
Terri Lynne Carrington we wish you the very best and *keeping our fingers crossed* on your Grammy nomination for http://www.terrilynecarrington.com/mosaic/ 
The Mosaic Project!!! You are amazing.
Whitney Houston - You weren't Supposed To Leave Us Yet. Rest in Peace. 2/11/2012
http://www.margeauxlampley.com/en/
Tuesday 24 January 2012 – Sunside Jazz Club 60 rue des Lombards 75001 Paris
  COME OUT AND GET A FUNKY START TO THE NEW YEAR!

Rest away Barefoot Diva..In memory of Cesaria Evora..December 2011
Blue Note jazz schedule for Christmas: http://www.bluenote.net/newyork/schedule/moreinfo.cgi?id=9625
Amy  may the force that runs through the veins of great artists lift you higher,you are now free..sing "Round About Midnight' just one more time.
http://tiny.cc/nmyzz Dionne Bromfield talks about Amy's death on video. Ms. Winehouse was her godmother. 
http://www.bbc.co.uk/programmes/p00jp15v
Tessa Souter's distinctive sound has evolved naturally from the disparate musical styles she absorbed throughout her life, from Carmen Jones to Captain Beefheart and Sandy Denny to Sarah Vaughan. She cites her biggest jazz influences as instrumentalists -- specifically Miles Davis and Wayne Shorter, whose 'Native Dancer' album, featuring Milton Nascimento, was her introduction to jazz and whose 'Ana Maria' (Track 7) she has been singing for the past eight years. "A truly beautiful voice and what she does with it really serves great lyrics, using the beauty of her voice to unearth and get to the core of great songs." Dermot Hussey, Sirius XM Radio The best thing is that Souter sounds different.... Expressive ... full of passion ... while 'Love Theme from Spartacus' - a brief and daring duet - reminds me that there really is a love song buried in there."Karl Stark, Philadelphia Inquirer "Compelling and utterly unique." Jazzwise magazine
Expect a mix of contemporary jazz songs by Coltrane, Shorter, Hubbard, with her own lyrics, mellow arrangements of standards, and selections from her latest CD 'Beyond the Blue', recorded for Japanese audiophile label Venus with Steve Kuhn, Joe Locke, Gary Versace, David Finck, Billy Drummond, and Joel Frahm, which has just been released in Japan. A collection of 12 jazz arrangements of classical songs, nine with her own lyrics, it is slated to be released on her "home" label Motema in the US this winter.


12387 Cedar Road (top of Cedar Hill)
Cleveland Heights, OH
Tickets/reservations 216-795-0550
www.nighttowncleveland.com
Map to Nighttown
Tuesday July 12, 7.p.m.NIGHTTOWN  
This Week at Nighttown
7/10 Sun    Ernie Krivda & The Detroit Connection   7PM   $20
7/12 Tues   Sierra Maestra    7PM    $25
7/13 Wed   Donald Malloy Quartet    7PM   $15
July 13 Meetup in San Francisco
Announcing a new Meetup for Live Jazz (& Blues) Meetup Group!
What: Kim Nalley sings Nina Simone @ the Rrazz Room
When: Wednesday, July 13, 2011 6:30 PM
Where: The Rrazz Room at Hotel Nikko
222 Mason St.
San Francisco, CA 94102
217-621-7517 (laura)
Stunning local jazz vocalist and jazz scholar Kim Nalley presents She Put a Spell on Me, her tribute to Nina Simone, at the Rrazz Room, July 1-17.  
Nalley is a wonderful performer with a great band; her album, She Put a Spell on Me: Kim Nalley Sings Nina Simone, was shortlisted for a 2006 Grammy Award.
Tickets are $30-38 (cheaper seats at the back, more expensive seats at the front), and there are $25 tickets (including $6 fee) on Goldstar but they'll go fast as the date approaches. 
Seating is host-escorted on a first-come, first-served basis within each price range; Goldstar tickets will be seated in the rear. The Rrazz Room is a very intimate venue with just 186 seats (smaller than Yoshi's Oakland which has 330 seats). 
There is a two-drink minimum per person. The Rrazz room also serves "light fare."
Seating begins 90 minutes prior to show time, so I propose we meet at the Rrazz room at 6.30 in order to be seated together, and spend time drinking & chatting before the show starts.
I just bought my ticket on Goldstar so I'll be sitting in the rear section.  I'm confident it'll be a great seat and a great show. 
Tessa Souter -British/Trinidadian Jazz Diva, 6/11/2011 Cornelia Cafe,NYC.
http://mim.io/f18611  8:00p.m.
www.bluesmoke.com June 11, 2011 urban BBQ, New York City
May 27-29  .  .  . Fri-Sun 2 shows nightly FOR  "HIROSHIMA"

*Featuring Special Guest Star, Terry Steele, vocals, and a preview of the band's new CD!
All profits from CD's go to Japan Relief
Yoshi's Jazz Club, Oakland
510 Embarcadero West
Oakland, CA 94607
I have added the best of the jazz & blues music fests (IMHO) to our Calendar as Calendar Notes -- please check them out and let me know if there are any you'd like to go to.  And please add any others you think we should know about.  
The list so far includes:
July 2-3 - Fillmore Jazz Festival, SF - FREE
Sept 16-18 - Monterey Jazz Festival - $50/day for Grounds only or $125/3day Grounds ticket (what I'm doing), or $225-$315 for 3day Arena ticket pkgs (Grounds + Arena)
Sept 24-25 - Russian River Jazz & Blues Festival - $50/day or $80 for 2 days
I'm not committing to organize Meetups for anything other than Monterey yet (though I would LOVE it if other Jazz & Blues lovers would like to!) -- but would like to know if anyone else is interested in either of the others.
Outdoor music lovers may also want to check out the outdoor music festival calendar at my other meetup, Bay Area World Music.  Today's jazz scene is increasingly drawing from other musical traditions, including African, East Indian and eastern european, and World Jazz has become a genre unto itself.  
Happy summer listening & dancing!
Jessica 
Rest Peacefully Phoebe Snow 4/26/2011
.
Our two year anniversary!! thank you members,visitors, friends and family!!
Announcing a new Meetup for Smooth Jazz for Kool Katz!
What: Rehoboth Jazz Festival (Oct 14-16) in Delaware
When: Friday, October 14, 2011 2:00 PM
Where: (A location has not been chosen yet.)
Why: Enjoy a nice autumn weekend of Smooth Jazz... maybe a bit of outlet shopping too.. Let's plan a road trip down to Delaware for the 22nd Rehoboth Beach Jazz Festival on October 14-16, 2011. This would be an excellent weekend getaway of Smooth Jazz, good food, and great company. The line-up has been announced! Here's the scoop: Friday 10/14: Fourplay and special guest Steve Cole Saturday 10/15: (Afternoon) - Smooth Jazz All-Stars featuring Brian Simpson, Mindi Abair, Nick Colionne, Jeff Golub, Cindy Bradley, Richard Elliott, and Paul Taylor (Evening) - Jazz Attack featuring Gerald Albright, Rick Braun, and Peter White Sunday 10/16: (Afternoon) - Super AllStar Smooth Jazz Grand Jam Click the following link to visit the festival website: http://rehobothjazz.com/ Here's the idea: Travel down to the fest on Friday and return on Sunday evening. Working to set-up package that would have two (2) options. First package option would include transportation from NYC, hotel for 2 nights, and tix to at least one show. Second option which would allow you to travel independently includes Hotel for two nights, tix for at least one show. Obviously this is in the early planning stages and six months away, but I need everyone's input to gauge interest to setup properly. YOUR COMMENTS AND SUGGESTIONS ARE URGED & WELCOMED! I hope you will consider this special meetup event. Please respond "Yes", "No", or "Maybe" today! Thank you for your consideration & cooperation! Craig
C! SUCH AS THE FABULOUS WYNONA JUDD AND HER VERSION OF "I WANT TO KNOW WHAT LOVE IS". SEE YOU SOON!Click belowso she can blow your mind today!
http://www.youtube.com/embed/yW4fd7VYyyI
   Ms. Etta James may the force keep you comfortable--as time goes by--for us you sang in our hearts at Barack Obama's Inaugural-no one else can claim that.
   Every year we have to go with Miles for a couple of days! keeps us balanced!
Happy Birthday Ms.Ross! and your 100 million record sales worldwide!
Congratulations Esperanza Spalding for you Grammy 2011!!
 Carrie Jackson and her trio at the Elizabeth Public Library,Elizabeth NJ
June 25@ 2:00 p.m., 2012-of course the Director is a fabulous Diva herself!
Saturday, March 12, 8:00 P.M.
CARRIE JACKSON
& HER JAZZIN' ALL STARS
JAZZ VOCAL STYLING
 
Salem Roadhouse Cafe, Elizabeth, New Jersey
Sax Jazz Diva Myanna in Massachusetts 2011
Brazilian Jazz Pianist, Vocalist and Songwriter

Eliane Elias
September 28-29, 2010
$25.50

Nancy Wilson & Trio

Song Stylist Who Embodies Gospel, Blues and Jazz

September 30-October 3, 2010
$45.00

Wednesday, October 6, 8pm
Blues Alley, Washington, D.C.

Thursday, October 7, 6pm
Mabel Mercer Cabaret Convention, Lincoln Center, NYC
guest soloist

Thursday, Oct.7, 10pm and Friday, Oct.8th, 7pm
Metropolitan Room, New York, NY

Friday, November 5, 8pm
Deering Estate,"Nicole Henry & Friends,"Miami, FL

Wednesday, November 17, 8pm
"Jazz Roots" at the AT&T Amphitheater, Dallas, TX
opening for Michael Feinstein
Sexto Sentido Cuban Female Jazz Group
Canadian Jane Bunnett
Jane Bunnett has become one of the foremost jazz musicians in Canada, and has gained recognition around the world for her improvising talents, technical proficiency, and writing and band leading abilities. Born and educated in Toronto, she trained as a classical pianist from 1975-78 (attaining Grade 10 Piano Honors), until tendentious forced a switch to woodwinds at the Royal Conservatory. In 1979 she began concurrent studies in jazz at York University, Toronto, inspired by her first exposure to jazz great Charles Mingus and Rahsaan Roland Kirk in San Francisco. This led to studies with pianist Barry Harris, flautists James Newton, Frank Wess and James Moody; then, having heard soprano saxophonist Steve Lacy's music, she began to focus on that instrument also. A 1991 Canada Council grant enabled her to travel to Paris to begin studies with Lacy.


Her first recording was an ambitious mix of Canadian and American players (the late pianist Don Pullen, tenor player and Ornette Coleman veteran Dewey Redman and Vincent Chancy, French horn) . This debut, In Dew Time, earned a Juno nomination in 1988. She toured Canada with Redman in 1991, and Australia with Pullen in 1992. A year later, Jane recorded New York Duets with Pullen, following it up with Live at Sweet Basil, then 1994's The Water is Wide which was chosen by The Village Voice as best record of the year.


A mid-'80's trip to Cuba with new husband Larry Cramer turned Jane's musical world upside down, into a passion for the island's wildly fertile musical culture and its people. Since then, Jane has explored the music in every corner of Cuba, and has absorbed the lessons and traditions with the same devotion she has given to her other work, seeking out musicians all over the island

Jane Monheit
Jane Monheit to Perform in Concert
at Tri-C Metro Campus Auditorium


Jane Monheit will perform in concert at the Cuyahoga Community College (Tri-C®) Metro Campus Auditorium at 7:00 p.m. on Wednesday, September 15, as part of The Center for Creative Arts grand opening celebration. Tri-C alum and famed jazz musician Dominick Farinacci of Solon will open the show. Having recorded six albums, Farinacci, a Juilliard School graduate, released the album "Lovers, Tales, and Dances" in February 2009. Tickets are $30 and can be purchased by phone at 216-241-6000 or online at www.tricpresents.com.

An extraordinarily gifted jazz vocalist whose sincere and romantic interpretations of exceptional songs has made her a favorite in both the jazz and cabaret worlds, Monheit has garnered numerous accolades in the past decade. Her first album, Never Never Land, was voted top debut recording by the Jazz Journalist's Association and stayed on the Billboard Jazz chart for over a year. Subsequent albums either charted high, or in several cases, debuted at number one. Monheit yielded two Grammy nominations in the Best Instrumental Arrangement Accompanying Vocals category, recognizing the work of Vince Mendoza on 2002's In The Sun and 2004's Taking A Chance On Love.


Tickets are $30 and can be purchased by phone at 216-241-6000
or online at www.tricpresents.com



Tuesday August 10th 2010, Queens, New York: Jazz fans,

Do not miss the YORK COLLEGE SUMMER JAZZ PROGRAM '10 at the York College Performing Arts Center (94-45 Guy R Brewer Blvd) this Tuesday, 8/10 @ 7 p.m. In addition to saluting Louis Armstrong, SJP '10 will perform music by Leonard Bernstein, Duke Ellington, Journey, the Rolling Stones, Rose Royce, Edgar Winter, and more! The show is free and open to the public.



TICKETS:$55.00 Tickets : 1-866-211-3812
Mindi Abair - Stars

New York's premiere summer jazz series is back once again! Join us in celebrating the Smooth Cruises' 13th year aboard The Spirit of New York, located at Pier 61, Chelsea Piers (23rd St & West Side Hwy). Experience this one-of-a-kind LIVE JAZZ concert series as you cruise down the Hudson River taking in fantastic views of the Statue of Liberty and the breathtaking Manhattan skyline. This summer will feature ten of the world's greatest jazz acts in an intimate setting, every Wednesday evening starting June 30th ending September 1st. The Smooth Cruises sell out quickly, so get your tickets today!

MINDI ABAIR
Mindi Abair is truly one of the gems of contemporary jazz artists to foray into the world of pop. This Florida raised, Los Angeles-based performer's unique hybrid sound and mix of cool vulnerability and utter conviction is going to give the likes of John Mayer and Corinne Baily Rae a run for their barrier breaking money. Her own brand of pop meets jazz adds a refreshingly unique voice to an exciting new generation of crossover artists who are, like her, powerful instrumentalists as well as thought-provoking singer songwriters. Perhaps John Taylor, famed Duran Duran bassist, says it best about her stunning melodies and heartfelt lyrics, "Mindi is unique. Listen to her new album Stars, a genre-busting, breathtaking combination of contemporary jazz and Top 40 torch songs. It will be love at first listen." Her first single from this album, "Stars," has been enjoying genre transcending success, charting number 29 on the Adult Contemporary chart. Mindi has been producing quality groundbreaking releases like this since her debut album It Just Happens That Way , which debuted in the Top 5 on the Billboard Contemporary Jazz Chart and remained in the Top 10 for 19 consecutive weeks. Her 2006 release Life Less Ordinary debuted number one on the Billboard Contemporary Jazz Chart and remained in the top 20 for 45 weeks. Don't miss one of Mindi's heartfelt and moving performances!




Amy Cervini has joined our very talented roster of artists
Vocalist Amy Cervini "...neatly straddles the line between confessional balladeering and breezy swing" (Time Out New York), and this recording is a prime example. The Amy Cervini Quartet (ACQ) effortlessly journeys through an eclectic mix of songs from The Cardigans, Depeche Mode, and Jack Johnson to American Songbook favorites "Comes Love" and "Bye Bye Country Boy," providing each one with a unique and imaginative treatment. With guest appearances by Joel Frahm (Tenor), Marty Ehrlich (Bass Clarinet), and String Nucleus. Includes Fred Hersch's never before recorded composition "Lazin' Around". You can go to her site or purchase her CD through here on
Amazon.

Mindi Abair now playing..
Guitars? Joyce Cooling is one of our favorites, she's appearing this summer in Cali

•AUGUST 6 FRIDAY
San Diego, CA
Anthology Jazz Club
One show at 7:30 pm;


Joyce's performance at Anthology is a Music for the Mind concert and will benefit the local San Diego chapter of NAMI (National Alliance on Mental Illness). "Just by showing up, you've donated and we thank you deeply!" - joyce

Carol Welsman at NIGHTTOWN Cleveland, Ohio...tonight July 17th..
Steve Frumkin
Nighttown / Jim Wadsworth Productions-You are currently listening to her rendition of "Don't Get Around Much Anymore".


Carol Welsman
Saturday, July 17
8 PM
$25.


In this session, multilingual singer and pianist Carol Welsman takes Piano Jazz on a musical journey through South American grooves, European sophistication and the Great American Songbook. Welsman has been nominated for multiple Juno awards (Canada's Grammys) and speaks and sings in Spanish, Italian, French, English and Portuguese with flawless pronunciation. She accompanies her singing with her own arrangements and writes original music, as well. Here, she joins guest host Jon Weber for a set including tunes by Peggy Lee, Antonio Carlos Jobim, Michael McDonald and Kenny Loggins.


This is the second time that Carol will play Nighttown. She was last here in September of 2007. Don't miss the exciting vocalist and pianist Carol Welsman and her group when she returns to Nighttown on Saturday, July 17th.
http://www.gretchenparlato.com/ with Gino Sitson's Vocal Deliria and Morocco's Jewel Malika Zarra.

Marsha Ambrosius signs with J Records-The Clive Davis label for showcasing really talented divas.

Maya wins top 40 under 40-
About Maya Azucena In 2008, Ms. Azucena became a Grammy-winner for her participation as a featured artist on Stephen Marley's Universal Records CD, "Mind Control." A Brooklyn-raised entrepreneur, producer, and singer/songwriter, she uses her music as a tool for activism and inspiration around the world. Ms. Azucena has earned comparisons to Chaka Khan and Roberta Flack with "story-telling lyrics and soulful soaring vocals" according to the New York Post and Billboard. She recently joined forces with Emmy-wining director, Lisa Russell to co-found MDGFive.com, a global platform for improving maternal health. Maya Azucena is in the final stages of completing her new CD, "Cry Love," designated for a February 2011 release. Visit her website for more information.



Brooklyn- New York Maya Azucena
NYC - SAVE THE DATE: In the meantime, SAVE THE DATE because I have a big concert at the legendary BLUE NOTE on MAY 24TH.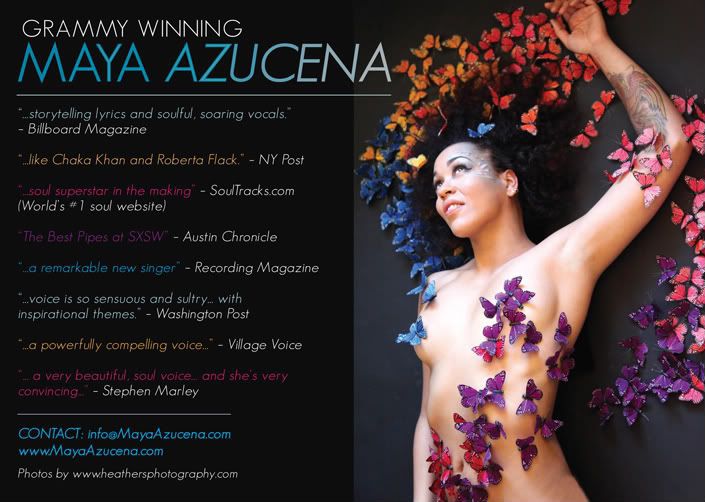 CROATIA:
I send my love to the fans in Croatia. I had such an amazing time at the sold out sports center in Osijek, and we'll be performing again for the two sports arena shows in Zagreb this Friday. Looking forward, I'll be at most of Gibonni's big shows this Summer. Videmo se! Maya has won a Grammy. We love her humanity.


SMOOTH CRUISE - Mindi Abair August 25th New York City. Jazz Cruise


Susana Baca
April 20-21, 2010
$26.50


Make a reservation for this show.

The Pacific Jazz Institute at Dimitriou's Jazz Alley presents AfroPeruvian Vocalist Susana Baca for two nights. Band members joining Ms. Baca are Ernesto Hermoza (guitar), Oscar Huarango (bass) and Hugo Bravo (percussion). Set times Tuesday and Wednesday are at 7:30pm. Set time on Doors open at 6pm on Tuesday and 5:30pm on Wednesday.


Susana Baca is one of the great voices of modern Peru. She's taken the country's AfroPeruvian musical heritage to stages and airwaves around the world, becoming a key figure in reviving a culture that had been largely ignored within its country. Her forthcoming album, Seis Poemas, isn't quite jazz. It is a tribute to a great voice of Peru from a different era: Chabuca Granda, a folk singer who became iconic to progressive movements and musicians throughout Latin America. With sparse arrangements, Baca emphasizes the lyrics, underscoring the renown Granda had as a songwriter depicting the simple beauties of Peruvian life and culture. -NPR


In 2002, Baca became the first Peruvian to win a Latin Grammy (best folk album, Lamento Negro), but away from the limelight, she has forged a reputation as a trailblazer. She is not only one of the greatest divas in South America, she is a tireless researcher, and is largely responsible for the revival of many forms of AfroPeruvian folklore. She belongs to a new generation of Peruvian singers, delving into the shadows of the past to recover shimmering melodies and seductive rhythms. Her seemingly effortless interpretative skills belie years of work assembling the songs, the stories and the steps of music and dances once consigned to history. The Peruvian vocalist who first won an international following with "Maria Lando", a track on the 1995 David Byrne produced The Soul of Black Peru, has often been compared to Cape Verde's Cesoria Evora. It's not surprising; both women have found rich material in folk traditions of their countries, and both sing songs that are steeped in darker emotions.


Susana Baca is wed to a sound and a history. Although her music was born in the coastal barrios of Peru, her artistry can't be contained within these boundaries, just as her appeal can't be limited to cognoscenti of AfroPeruvian traditional song. Baca is credited with the revival of African rooted music of Peru and for introducing it to the global masses through her works under the Luaka Bop imprint. Through her recordings, she has preserved the legacy and heritage of the enslaved West Africans who were brought to Peru in the 16th century. Her Instituto Negro Continuo, which she runs with her husband, was set up to document the culture, music and dance associated with her ancestry.


Nicole Henry Named "Outstanding Jazz Vocalist" at NYC's 25th Annual Bistro Awards On Tuesday, April 13, in the company of great entertainers such as Mitzi Gaynor and Elaine Stritch; Nicole Henry was honored with "Outstanding Jazz Vocalist 2010" at the 25th Annual Bistro Awards Gala held in New York City. Even though Nicole has only been performing in NY just shy of a year, her shows have earned her impressive press and recognition.

Returning to the U.S. this week from a 7-city tour of sold-out concerts in Russia, Nicole continues her monthly NY shows and announces her debut at The Royal Room in Palm Beach. Visit www.NicoleHenry.com for additional touring details.
- Watch Nicole's Press Video
- Read Nicole's New York Times Review


Photo by Dmitry Loshagin- Russia

New York
The Metropolitan Room
Friday, April 23, 9:45pm

Friday, May 14, 9:45pm

34 W. 22nd Street
(btw 5th & 6th Ave.)
NY, NY 10010
212.206.0440
www.metropolitanroom.com


Palm Beach
The Royal Room
at The Colony
Friday, May 28, 8:00pm

Saturday, May 29, 8:00pm

155 Hammon Avenue
Palm Beach, FL 33480
561.655.5430
www.thecolonypalmbeach.com



Performance wardrobe provided by:
Nicole Miller Logo Dark
656 Collins Ave. Miami Beach, FL 33139

"An artist who knows how to make a song her own...she has a potent voice and her interpretive sense is sharp and distinctive." - Billboard

"She can sing a power ballad as well as Whitney, Diana and Patti..." - Jazz Times

"...beautiful, emotionally evocative...a terrific voice and a sensitive way with a lyric." - Jazz Improv

Nicole's #7 Billboard-Charting CD "The Very Thought of You," and
her previous TOP 10 CDs "The Nearness of You" and "Teach Me Tonight" available at:
iTunes; Amazon; Barnes & Noble

NearnessCD TeachMeTonight CDVery ThoughtCD


Portland's Jessy J--Latina's in the mix..her "Tequila Moon" was 2008 Billboard #1!


Marion Rung is a Finnish Pop Singer her voice is so beautiful --The Long and Winding Road is a difficult song to sing.

----------------------------------------------------------------------------------------------------------------
Cleveland's Elizabeth Mis-On Soprano Sax at 18--a whole life of great music ahead..
Fresno's Jeannette Harris-A Diva on Alto Sax...Another former child Prodigy-

Selena Jones
Beginning this year 2010, Salena again sold out at London`s Pizza on the Park, Hyde Park Corner, where she returns on April 17th and May 24th.

Madeleine Peyroux


Read one of her rare interviews in the Diva Diction Group.
The Goddess of Cool.What a Woman! Ms.H.FolaSADE Adu is here because she is a Jazzy Diva, and the undisputed Goddess of Cool. Her Cinematic video is all that she embodies. A sultry,intelligent ,spiritual, naturally beautiful being.Like vintage wine, rich, full and lasting.©
Me'Na

Our young Divas..wishing them the best.. Bianca will be 16 years old this year..
We are aware of Charice but the maturity and confidence of this young Diva is evident.

Nicole Henry becoming New York's Jazz fans favorite Diva: Will be at her home away from home it seems-The Metropolitan Room Looking lovelier than ever and still adding that magic styling to standards! March 19th.2010
Photo Credit :Hans Blossey
Morroco's Malika Zarra See the interview on Morocco's Jazz Jewel:
http://www.cnn.com/2009/WORLD/africa/08/30/malika.zarra/index.html
Kat Parra-San Francisco's world music jazz diva who connects with Afro-Cuban, Sephardic sounds.

Israeli Anat Cohen
Israeli-born clarinetist/saxophonist Anat Cohen arrived on the New York jazz scene in 1999 in full stride. With an artistic palette extending from Brazilian choro and Afro-Cuban tunes to Middle Eastern rhythmic figures, Cohen combines traditional jazz with an intoxicating array of world music.
May we introduce you to:
Haydee Milanes--She sings more in the Smooth Jazz genre which is still new to Cuban Jazz..the daughter of Pablo Milanes she has a great future if President Obama would work on lifting that unmeritorious embargo.No she does not sound like Norah Jones..she sounds like herself from a long line of musicians. We like her!!
Haydee!

Cuba's Lilia Exposito Pino also known as "Bellita."
The Bay Area's Paula West. Her singing describes the nomenclature of this page, Heaven & Jazz-On" Fly Me to the Moon" this sultry contralto sends you into a relaxed chill space.

Las Vegas has several shades of Emerald Jade, she sounds sexy and sultry ..

Ive Mendes--self explanatory..she is Brazilian!
Introducing from the United Kingdom: Ms. Dionne Bromfield, the god-daughter of Amy Winehouse It takes a truly big and truly humble star to sing background to help another rising star-You go Amy Winehouse, show them what you're really made of. We send you healing light.
Erin Boheme homegrown from Wisconsin USA, sings sweet and sultry jazz standards
Esperanza Spalding shown here at the Nobel Peace Prize Concert in Dec 2009 will be at the NJ Performing Arts Center with Cassandra Wilson 3/06/2010We're hoping the President will make a better choice for his next Inaugural -now that he has been exposed to real talent.
>Danish Jazz songbird Malene Mortensen
Cynthia Scott Our Esteemed site member -Songs on her CD "Dream for One Bright World" A former "Raelette" with Ray Charles.
© Permission granted. Above photo.
Chicagoan Deborah Connors sings with De'Nate our site member and her sultry sounds

Esperanza Spalding-as long as this talented and accomplished cutie pie..stays on top of her P.R. people she will make it really big..we're hoping..appearing Feb.4-7 at Dmitriou's Jazz Alley 206-441-9729
Cape Verdean Sara Tavares -not only is she Lovely but she sings like an angel even if we don't understand Portuguese!
Jean Carne with Grover Washington Jr. -The Look of Love
Amy Winehouse She is her own Virgoan Muse- as a composer and singer
Her originality in "Round Midnight" is fantastic..we listened to about 20 versions and hers was the most soulful.
Jane Monheit Sings effortlessly..Scats nicely..
Eliane Elias Brazilian Jazz Diva truly as sultry as a diva can be!

Cassandra Wilson -Closer to You
Candy Dulfer..whose idol is Alto sax player Maceo Parker (James Brown's bandplayer) gave props to Rosa King, a known Blues and Sax Player who let Candy play at the North Sea Jazz Festival when she was 12-years old..

Dutch Jazz diva TRIJNTJE OOSTERHUIS

Mindi Abair with former President Bill "Sax" Clinton~~


Dorothy Donegan, another brilliant pianist who could play Liszt or Rachmaninoff-& jazz in all its forms..A genius with all the quirky behavior that geniuses exibit..Beautiful in her youth


Still performing in her 70's now gone forever..
ETTA JONES THE LAST OF THE GREAT JAZZ SINGERS..FABULOUS ETTA, JUST AS FABULOUS AS BILLIE..

Uber Jazz Pianist Geri Allen at Cecil's in West Orange, NJ
Posted in EVENTS..this weekend December 18-19th, West Orange, N.J.

Mindi Abair on Sax February 11-14, 2010
$25.50 - $39.50
206-441-9729

Pacific Jazz Institute at Dimitriou's Jazz Alley present pop-influenced jazz saxophonist and vocalist Mindi Abair for four nights, touring in support of her latest release Stars. Band members are TBA. Set times Thursday through Saturday at 7:30pm and 10:00pm. Set time on Sunday at 7:30pm. Doors open at 6pm on Thursday and 5:30pm Friday – Sunday.

Where do you go from #1? If you're singer, songwriter and saxophonist Mindi Abair - whose 2006 release Life Less Ordinary debuted at the top of Billboard's contemporary jazz chart - you step out of your comfort zone, reach deep inside, follow your heart, write a bunch of killer songs showcasing your dynamic vocals like never before and, yes, aim for the Stars.
Keiko Matsui an enchantress on Piano..Beautiful.
Joyce Cooling-awesome on guitar
Paula Atherton..On the scene with "Block Party" currently playing.
Cindy Bradley on Trumpet Playing "Pieces of Dreams"Video
"Bloom" now playing from her new CD

Tineke Postma playing with the international jazz quartet.

Izaline Calister, her rendition of "Mi Pais" in Papiamentu from Curacao, The Netherlands Antilles
ALL COMPOSERS AND LYRICISTS..THE MUSIC CREATOR CONFERENCE IN L.A. 2010 SCROLL DOWN TO THE BOTTOM OF THIS PAGE.

Congratulations Ms. Welsman on your nominations Best Female Artist Canada
Carol Welsman's new CD " I Like Men".Featuring "Don't Get Around Much Anymore."

Sandra Mihanovich new CD release

Nancy Wilson on Vocals to " Imagine This" now playing..
composed for her by our Esteemed member and super talented percussionist Terri Lyne Carrington:
Pamela Williams known as the "Saxtress: "Afterglow" ,"Secret Garden" Currently Playing
with Teena Marie and Patti Labelle on vocals.

Dee Dee Bridgewater, "Midnight Sun."
Dianne Reeves,Title 2 "Jazz Baltica"
Julie London,Title 3 "Cry Me A River"
Myanna ,Title 4 our Esteemed member and one a* kickin! Sax player!"Freedom's Dance"
You are listening to Myanna Pontoppidan
Valentine's Day Gig see times under events. February 2010
Nnenna Freelon Title 5 (Clark Terry) " I Live To Love You"
Diana Krall, Title 6 "Temptation"

Some of the greatest Jazz Divas some featured on our site in one CD:Artist: VA
Title Of Album: Rendezvous Jazz Woman
Year Of Release: 2008 Label: Magnetic Records Genre: Jazz / Vocal Jazz
01. Julie London - Come On-A My House (2:33)
02. Carmen Mcrae With The Dave Brubeck Quartet - Take Five (2:14)
03. Eliane Elias - Oye Como Va (4:05)
04. Coralie Clement - Samba De Mon Coeur Qui Bat (3:51)
05. Wanda Sa - It's To Late (4:25)
06. Yvonne Sanchez - Rainbow (3:53)
07. Silvana Malta - Samba Rosgado (3:10)
08. Chiara Civello - Without Him (Her) (3:02)
09. Casandra Mckinley - I Want You (3:26)
10. Luciana Souza - God Only Knows (3:48)
11. Beady Belle - Whe My Anger Starts To Cry (3:44)
12. Caroline Henderson - I'm A Fool To Want You (3:22)
13. Erin Boheme - Let's Do It (5:07)
14. Rigmor Gustafsson - Don't Do It In Here (3:05)
15. Shirley Horn - Hit The Road Jack (3:08)
16. Club Des Belugas - It's Beautiful Day (3:28)

CD 2:

01. The Moleskins - Money (5:15)
02. Solveig Slettahjell - P.S. I Love You (1:52)
03. Erin Boheme - Touch Me Tonight (4:38)
04. Marie Inger - If You Go Away (3:41)
05. Holly Cole - Larger Than Life (3:35)
06. Renee Olstead - A Love That Will Last (3:27)
07. Caroline Henderson - I'm A Fool To Want You (2:57)
08. Cassandra Wilson - Crazy (2:19)
09. Beady Belle - Game (4:39)
10. Molly Johnson - If You Know Love (3:41)
11. Malene Mortensen - I've Got My Love To Keep Me Warm (3:40)
12. Ulita Knaus - Four On The Floor (3:34)
13. Melody Gardot - Goodnite (2:52)
14. Dianne Reeves - Lovin' You (5:24)
15. Kate Schutt - Wrecking Ball (3:22)
16. Karrin Allyson - Pra Dizer Adeus (Time To Say Goodbye) (4:47)



Jazz Diva Diane Marino covers "GROOVIN' The Young Rascals' hit featuring Felix Cavalieri

Featuring Miles..We were in a funky mood, .. you know balance the C'hi!
Every once in a while we need Miles..We played "So What" with:
Miles Davis trumpet, band leader
Julian "Cannonball" Adderley alto saxophone
Paul Chambers double bass
Jimmy Cobb drums
John Coltrane tenor saxophone
Bill Evans piano
While we were thinking about Miles, his wonderful wife Cicely Tyson has just opened the $143 million dollar School of the Performing and Fine Arts in East Orange, N.J. Read in "Notes." Under All NotesTrumpeter Miles Brownman just did 5 WEEKS FOR MILES,covering his career at the Trane Club in Toronto..Miles' presence is ethereal. The Vibe is in the universe. We will play Miles again.
******************************************************************************************************
La Mujer Cubana!..!Adelante!mis hermanas canelas..sultry y lindas!!!Kissed by the Sun!Reality, it's my home in the Caribbean! Photo:Danilo Navas
Seventy-seven years after the first band was formed, the spirit of the original members of Anacaona is still alive. Today the band's leaders -sisters Georgina and Dorita Aguirre- maintain the legacy they received from the Castro Zalarriaga sisters.
Anacaona was founded in Havana in 1932, by Concepción Castro and her sisters: Ada, Alicia, Algimira, Caridad, Emma, Olga, Ondina and Xiomara. At that time it was considered the first women son sextet; in 1934 they changed the format to JAZZ BAND and Charanga Típica. Against all the odds -being an all-female band- they embarked on a steady and very successful musical career. They traveled all over Cuba and abroad, sharing international stages with many artists from all over the world. They recorded and appeared as special guests on radio, TV shows and movies.
www.latinjazznet.com/images/photos/anacaona.html Please see images from the
Latin Jazz Network.
Fifty years later, after finishing their studies at the Amadeo Roldán Conservatory in 1983, Georgina Aguirre and her sister Dorita joined the band, then under the leadership of Alicia Castro (who was the second director of the group). In 1987, the five remaining Castro Zalarriaga sisters decided to retire, and the leadership of the orchestra was passed on and kept in good hands. Since then, Anacaona has been renewed with young and talented girls, graduated from different Art schools and with the required musical talent and charisma to maintain the legendary orchestra.

ANACAONA made its first Canadian appearance during the Art of Jazz Festival in Toronto, on Saturday June 6, at the Fermenting Cellar venue, in the Distillery District. They also played an outdoor concert at the Trinity stage on Sunday, June 7.

November 24th SADE THE EFFORTLESS ONE..TO DROP AN ALBUM?


LARISA DOLIAN..RUSSIAN Tony Winner "The Ovatsia"..an accomplished jazz artist..

ESPERANZA SPALDING ON BASS

"A human being without a conscience is like an alien with a plan" Marta Fernandez

It's illegal to annoy
A new federal law states that when you annoy someone on the Internet, you must disclose your identity. Here's the relevant language.
"Whoever...utilizes any device or software that can be used to originate telecommunications or other types of communications that are transmitted, in whole or in part, by the Internet... without disclosing his identity and with intent to annoy, abuse, threaten, or harass any person...who receives the communications...shall be fined under title 18 or imprisoned not more than two years, or both."
Buried deep in the new law is Sec. 113, an innocuously titled bit called "Preventing Cyberstalking." It rewrites existing telephone harassment law to prohibit anyone from using the Internet "without disclosing his identity and with intent to annoy."
2010 Latin Jazz Flautist Of The Year


Masaru Koga
Dos Amantes

Kat Parra & The Sephardic Music Experience
Kat Parra's combination of Sephardic music, jazz, and Caribbean rhythms on Dos Amantes
marked a new artistic direction that required forward thinking musicians. As the album's sole wind player, flautist Masaru Koga was tasked with the daunting job of navigating traditional melodies with an eye towards Sephardic tradition while winding through Latin Jazz contexts. Koga's insightful musicality pushed him in the right direction though, helping him to build a distinct improvisatory voice around Parra's version of Sephardic music. His dedication to the project and Parra's musical ideal resulted in a stellar performance that made Koga a standout part of the top-notch musical team on Dos Amantes
.
!Felicidades!Congratulations Kat
Etta James, You have been a Warrior Diva. RIP 1/20/2012